Nathan's birthday happened recently, so we took a weekend trip to Iowa City and Chicago to celebrate. Some of Nathan's friends and family joined us in Iowa City, and his sister even came along to Chicago with us. There was a lot of beer to be sampled in Chicago but i didn't get to do more than taste each one since i'd had about four whole drinks in Iowa City the night before (stein o' beer + cup o' wine) and have a tendency now to experience long, painful hangovers. No more steins for me. 😦 It's possible the late-night trip to Red Poppy worsened the ensuing situation. Either way, Iowa City was fun but i wound up paying for it.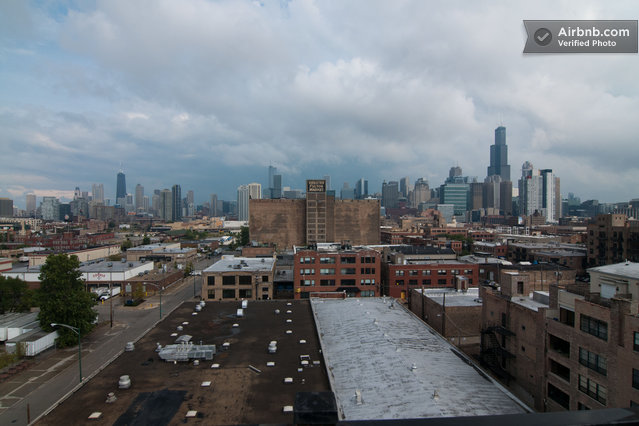 We tried out airbnb.com for the first time and stayed in a stranger's apartment on the Near West Side. Pros: he's a super nice guy with a sweet dog and a pretty swanky place in a great location. Awesome view from the balcony, too. Cons: walls are considerably thinner in an apartment than in a hotel, and we had trouble getting the shower hot enough. We're pretty private people, so if we use airbnb.com again, we'll look to rent an entire apartment rather than just a room.
By the second evening in Chicago i had fully recovered from Iowa City and was able to thoroughly enjoy dinner and a show. We ate at The Publican, and it was heavenly. We sampled several forms of pork: pork rinds, sliced ham, and pork belly. They were all fantastic, and the sides and desserts were delightful as well. I even had a beer, yay! Then we walked to Bottom Lounge to see Ladyhawke. The show started at 9 and i was dismayed to see three openers listed on the chalkboard. The first duo was alright, the second one had their show cut very short by a rogue beach ball knocking over (and breaking) the third member of their band—the Mac Book. And the third opener for some reason didn't actually exist (maybe it was the DJ?) because we were relieved to see Ladyhawke take the stage next. It was a really, really fun show. Chicago hipsters clearly care more about music than the Des Moines breed does, because they were a lot less douchey and danced more. I had a really great time, and i managed to make it back to the apartment without my feet quite falling off, thanks to a helpful piggyback ride from Nathan.
Two days later, back in Des Moines, i dragged Nathan to another rock show. This time it was Silversun Pickups. Their newest album isn't as wonderful as their first, but i missed them last time they came to DSM for absolutely no good reason, so i wasn't about to skip this show as well. Their first opener was a cute little indie band from Australia with a dumb name, Atlas Genius. The second opener was just god-awful. I haven't seen a band that terrible in a long time… But it gave us an excuse to wander around Hoyt Sherman a bit, which is a beautiful old venue. And i discovered and bought a cool SSPU poster, so it wasn't all bad. Then SSPU played and it was a pretty fun show. The bassist seemed overly excited about performing, and we were informed several songs in that she wasn't their actual bassist but a substitute on tour with them for Nikki's maternity leave.
I was pretty happy with the crowd at Hoyt Sherman. They were older and less hipstery than the 80/35 crowd, and i only saw phones in the air a couple of times. It's a little harder to get into the music in a seated venue, but the front man mentioned that fact and praised us for dancing anyway. One woman in the front row even got full acknowledgement and a kiss on the hand for her no-holds-barred enjoyment of the show. Rachel, you are the heart of Des Moines.